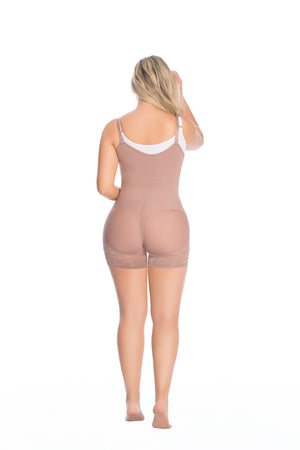 Product image 1
Product image 2
Product image 3
Product image 4

Free-Bust Girdle with internal side zipper provides maximum adjustment. This short style girdle is designed with a silicone lace that sticks to the skin.
Natural enhancement and whole body control effects, helping you look slimmer and slender
Controls your abdomen and reduces measures in seconds.
Control on higher back.
Abdominal control that reduces measures on the lower abdomen.
Provides reduction of waist and naturally enhances your breasts.
Removable and adjustable straps to use with your favorite clothes and bra.
Silicone liner on legs that adheres to the skin.
Cheek style free leg design.
Soft lateral clasps with skin protector.
Permanent shaping with flat or invisible stitching without mistreating your skin.
Elastic and compressive materials that guarantee control with comfort.
Control garments with the latest in smart fabrics, totally covered with elastic weaving, Soft Lycra, which helps you feel more comfortable and fresh.
Fabrics with VIVELTEX, set of components (sea algae, Gingko Biloba, Cosmacol EMI and Vitamin E), that help hydrate, tone up and nurture the skin.